Ask the experts
Here is a selection of Q&As from Your Glos & Wilts Wedding magazine. If you would like your question answered by our experts, please email it to editor@yourgloswilts.wedding.
To view more Q&A's on a different topic, please select one from the list below.
Hot topic: Marquees, transport and entertainment
Our regional experts talk marquee receptions, transport and entertainment
---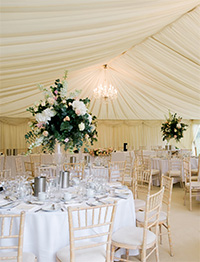 Bringing the outdoors in
Q. We want a marquee for our wedding reception but aren't sure which type to hire and how to style and theme it. Can you help?
A. Angela King says: We understand that when couples first start planning their marquee wedding, there are lots of decisions to be made. These might change over time, and the beauty of hiring a marquee is that the specification can evolve to suit these plans.

We offer two main types of structure. Our Clearspan marquees are suitable for weddings year-round and come in different widths, making them flexible enough to stand in irregular-shaped gardens, attach to buildings or even be erected on sloping sites. We show couples the various options they can request, such as the starlight ceiling or panoramic windows and roof. Alternatively, our Petal Pole Style Traditional Marquees with scalloped edges and wood finials emphasise all the best aspects of a traditional one. With both of these types, we offer various chairs, table sizes, carpet colours and lighting options so that couples can really personalise their day. Some people have clear visions of how they want their marquee weddings to look, whereas others slowly build ideas as their plans develop. All I need to start helping the planning process is an idea of the total number of guests. I then create an initial marquee layout and breakdown of the costs. Every couple has a budget, and the options provided allow them to tailor each element accordingly, from the decorations to the catering. This enables couples to save or splurge on the things that are most important to them.

From the initial layout and estimate, we then meet each couple at their chosen marquee location and can start to make the plans realistic within its setting.

In the week leading up to the big day, our knowledgeable build team arrive to bring months of planning into reality. Our site manager has more than 20 years' experience, allowing couples to focus on the arrival of family and friends. We never build on the actual day of the wedding, so you're able to add those final personal touches like suspended flower balls and bunting.
---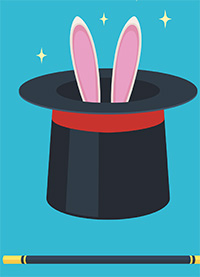 Abracadabra
Q. We are planning a marquee wedding later this summer and would love to treat our guests to some surprise entertainment during the sit-down wedding breakfast. What do you suggest?
A. Colin Dymond says: Entertaining your guests during the wedding breakfast is a good idea because, often, a sit-down dinner can take up quite a bit of time. Table Magic is a fantastic way of bringing together loved ones who might not already know each other. I like to think of each table as a small party, and I entertain the whole group by getting them all involved with the tricks and fun. I use lots of different props, not just relying on card tricks. As the cheers and laughter spread from table to table, it becomes infectious, usually culminating in a huge round of applause for the finale performed at the top table.

Another idea is to have the magic during the pre-dinner drinks. This is usually the time when the photographer has taken the couple and their bridal party away for group photographs, and it can be a bit of a waiting game for the remainder of the guests. Having a magician perform at this time brings people together and keeps everyone in the party spirit.
---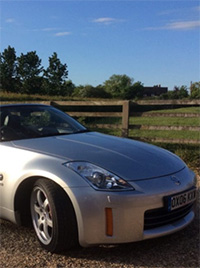 Freewheelin'
Q. We need some inspiration for fun, quirky and even colourful transport ideas to take us to our marquee wedding reception.
A. Andy Coleman says: Wedding cars are still the most popular form of big-day transport and have come a long way since the days of tying tin cans around the exhaust! They come in an array of colours and varieties to suit each couple, their personalities and their big-day theme. A Bentley in scarlet red makes a great statement and is very festive for couples getting married at Christmas. A white Mark 11 Jaguar is a cool option for a 1960s-themed reception, while older classic cars add elegance to all nuptials, especially vintage-themed ceremonies.

At Barrington Chauffeur Services, we hire an S2 Bentley and a Rolls-Royce Silver Cloud, very similar to those used at the past two Royal weddings. There's also a golden Rolls-Royce (instead of a carriage) for a Cinderella-themed day.

Grooms and their groomsmen usually love a spin in a soft-top sports car, and our Nissan 350Z doesn't disappoint – it's a real boys' toy for them to drive to the ceremony in.
---
Contact our experts...
Andy Coleman
Barrington Chauffeur Services
Angela King
Richardson Marquees
Colin Dymond
Colin Dymond Magician
---