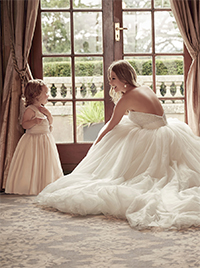 All dressed up
Q. When should I start the search for my dress, what should I wear to the appointment and how will I know what shapes will suit my figure?
A. Vicki Crocker says: We advise that you start looking for your dress at least nine months to one year before your wedding. Depending on the designer or supplier, they can take up to seven months to arrive into the studio, and you need to factor in time for any alterations.

Remember to wear white, cream or nude underwear to your appointment because you are likely to be trying on styles in those colours, so dark underwear could easily show through.

Deciding on the shape is easier than you might think because you will know what suits you when you try it on. Brides with a small bust can definitely wear a strapless gown as long as they feel comfortable in it. Choosing a strapless style with lots of detail on the bodice gives the illusion of a larger cup size, and there's always the option of having push-up pads sewn into it to add lift to the bust.

Most brides who have a fuller, curvier figure tell us when they visit the studio that they definitely do not want a figure-hugging dress. More often than not, we find that they will try on a fitted one and realise they have a beautiful shape they want to show off. Dresses designed for curvy brides are heavily boned and often have a corset back which can be tightened to enhance the bride's figure. There's no reason why a curvy bride cannot wear a strapless dress if they feel that they are supported. Many women might want to wear sleeves to conceal their arms, but more often than not, these will draw attention to them more than a strapless style or one with delicate cap sleeves.

A hoop is often used to create space under the dress and ensure the bride has space around her legs. It shouldn't (unless requested) make the dress appear too full because different circumferences are readily available.
Vicki Crocker
www.trousseaux.co.uk