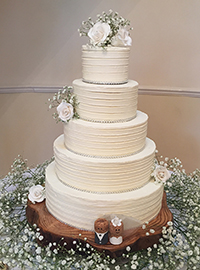 Let them eat cake
Q. We are trying to achieve a very personal wedding. How can this be incorporated into our cake?
A. Pam Johnson says: Creating a very personal day, and wedding cake, that's suited to you both is a lovely thing to do because it means that it will be an individual design. A story cake is a great way of recalling the journey of your lives together so far, with each layer focusing on different aspects – for example, where you met, your first holiday together, your engagement, moving in together and so on. I start these designs by asking for images such as photographs or clip art. I then print them on to edible icing or wafer paper and place them around the cake. I would then meet with couples to discuss the idea and decide on the placing of the images.

Another idea of personalisation is for the cake to show the wedding vows, which would be printed on to edible paper in a heart shape. This can either be encased in icing so that it's free-standing and positioned against the cake as required or it can be placed directly on to the cake with either a flower frame or icing to decorate the edges. The wedding venue and date are also a nice touch to have printed and placed on the cake, as well as your names or monograms with the similar iced surround. Using the edible printer, various messages and pictures can be picked, giving couples the chance to design their cake with an endless variety of options.
Pam Johnson
www.gloucestershirecakemaker.co.uk