Ask the experts
Here is a selection of Q&As from Your Glos & Wilts Wedding magazine. If you would like your question answered by our experts, please email it to editor@yourgloswilts.wedding.
To view more Q&A's on a different topic, please select one from the list below.
Hot topic: Tutus, bridal hats & beauty
Our regional experts talk tutus, millinery and getting that summer glow
---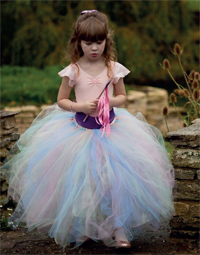 Tutu pretty
Q. I want my adult bridesmaids and flowergirls to wear tutus on my wedding day but don't know which style and length to pick so that my little ones look cute and the adults look stylish?
A. Kate Winchurst says: Tulle is a wonderfully versatile material for dressing all the members of your bridal party, especially if you choose to go for a bespoke service. By opting for a few different tones from your chosen colour scheme, you can mix and match skirt styles to cover all ages.

For your grown up bridesmaids, I recommend opting for a tulle skirt instead of an actual tutu. These can be knee-length, mid-calf or floor-length, so each of your ladies can opt for the one they feel most comfortable in. They needn't be all in the same colour, but it can help to unify the overall look if you do end up with a selection of lengths.

For the little ladies in your bridal party, there is nothing cuter than a super full and frothy tutu teamed with a simple leotard. In a similar way to the adults, these can be pretty much any length you'd like them to be, and they're a great way to tie together the various colours of the wedding theme. Handmade tutus can be made in as many colours as you like, softened by adding in a touch of ivory or left bright and vibrant. Alternatively, you could choose to dress everyone in ivory or white tutus and pick out the colour of the adult skirts by way of adding a sash, tied in a beautiful bow.

Both tulle skirts and tutus would suit any young ladies between the ages of 10 and 14. My advice is usually to ask them which they would prefer, as it's generally the safest way to keep everyone happy!
---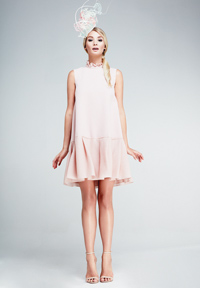 Hats off
Q. What are the trends for the year ahead for bridal millinery, plus those for bridesmaids and mothers-of-the-bride and-groom?
A. Vivien Sheriff says: Lace combines the beautiful elements of exquisite patterning and delicate femininity, which makes it a wonderful fabric to incorporate into a bridal look. We see lace being used in many different ways in bridal attire. At Vivien Sheriff we have created special techniques to sculpt corded lace into bridal headpieces decorated with precious trims such as sea pearls and dazzling Swarovski crystals. Lace is still extremely popular for the contemporary bridal look whether it's incorporated into the bridal gown, headpiece, veil, the shoes or indeed, the entire look.

With a growing number of weddings themed around glamping and the great outdoors, the boho-chic look is very much in for this season. Romantic gowns with ruffles and soft fabric layers sit well with our Water Fairy halo headband made from fine lace teamed with a single soft organza flower, perfect for a vintage-themed wedding harping back to 1920s and 1930s silver screen glamour.

For the more adventurous, the fairytale bridal gown may be replaced by co-ordinating separates or even a jumpsuit. With a structured outfit comprising sleek lines, a bride can really be inventive with her accessories. For spring/summer '17, we have some particularly eye-catching pieces such as the Haze feather crown and the dazzling Assam turban, both pieces make a real statement.

When it comes to the bridal party, it's common place now for bridesmaids to choose a dress style to suit their body shape and personality within a colour theme, rather than a group of bridesmaids wearing exactly the same dress. Similarly, an array of toning colours likes pinks, pastels and ice cream shades are being worn across a group of bridesmaids to suit individual hair colour and skin tone.

We love working with mothers-of-the-bride and-groom. The right piece for her will depend on a number of factors such as face shape, body type, complexion and personality. Hats have an innate power to make the wearer feel really special, so a good measure of expert styling to select the right hat goes a long way. It is vital for the client to bring along their chosen outfit or ideas and dress fabric swatch. More often than not, the hat is the crucial accessory that brings together the entire outfit, so envisaging the overall look is very important.
---
You glow, girl
Q. With my summer wedding fast approaching, how can I achieve that radiant, glowing look?
A. Hannah Martin says: Those getting married in the region can now visit the newly opened Bobbi Brown store in Marlborough for any make-up advice and try all the products designed to get that glow.

To achieve a picture-perfect look, choose the features you want to highlight. Wearing too much glow can have an adverse effect, especially in photographs where you could end up looking shiny.

It's important to prep your skin with the appropriate products before applying make-up. I love the Bobbi Brown Vitamin Enriched Face Base for all-over use, with a layer of Extra Illuminating Moisture Balm swept over the cheeks.

If your skin is dry, you can create luminosity with cream-based products like Extra Repair Moisture Cream and Hydrating Face Cream. If your skin is oily, you'll need to control it with Bobbi Brown's Hydrating Gel Cream and Skin Smoothing Pore Perfector that both absorb excess sebum and prevent it seeping through your make-up. A powder-based highlighter is also a must.

No matter what your skin type, I recommend Bobbi Brown's Bronzing Gel to give you that sun-kissed finish. Either add it to your foundation or simply pat over the areas you would normally bronze, for example your cheekbones, temples, forehead and under your chin where some may naturally be fairer.

Cream Blush is very flattering and leaves the skin looking supple and soft. I love Pot Rouge For Lips & Cheeks in pale pink for brides as it creates the most beautiful, natural flush of colour. If your cheeks get oily, use the powder blush in the same colour and dust the Shimmer Brick in Rose over the top for a subtle light reflective sheen.

Finally, if you want your eyes to glow then try the Long Wear Cream Shadow Stick in Pink Sparkle and Golden Bronze. They are stunning worn alone or blended together. Give your eyes that extra pop by layering Sparkle Eye Shadow in Sunlight on top. The Retouching Face Pencil in Illuminate is stunning when used around the eyes. Use it to highlight the brow bone, for example, or the inner corner of the eyes to give a bright, wide-eyed look.
---
Contact our experts...

Hannah Martin
Senior PRO Artist for Bobbi Brown

Kate Winchurst
Head creative at Mrs W Tutus

Vivien Sheriff
Owner of Vivien Sheriff
---