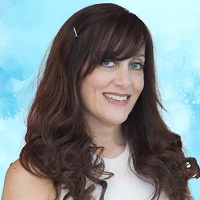 Get to know Claire Ridley, editor of Your Glos & Wilts Wedding, with these top 10 questions.
What do you love most about working on Your Glos & Wilts Wedding?
I love working on Your Glos & Wilts Wedding because I have launched it and take great pride in searching for new ideas and companies to feature from Twitter along with various other avenues. I love these regions – they are so picturesque (especially the Cotswolds) and love seeing all the beautiful venues and real wedding photography. My dad is originally from Wiltshire so I have family that live there so have not only asked them for leads on companies, but I find it really interesting finding out more about their region and where my dad was born.
Describe the style of a Your Glos & Wilts Wedding bride?
Your Glos & Wilts Wedding bride is more traditional, she prefers a barn or a farm wedding that's styled with bunting, fairylights and lots of wild, locally grown flowers. She is a romantic and likes demure, lacy dresses. She can also be seen favouring a floral crown but is also likely to opt for a beautiful bespoke headpiece. She has money to spend on her wedding.
What's your favourite feature to write for Your Glos & Wilts Wedding?
I always love writing and editing the scrapbook real weddings but for this title, I enjoy putting together the flowers, cakes and venue styling features (the latter I am working on as I write) because there are so many talented, creative florists, wedding cake designers and styling companies in both regions. They work to such a high standard and seem eager to get involved with the magazine.
If you were to get remarried what type of wedding would you have?
If I were to remarry one day, I would opt for a floaty dress in layered tulle – rather like a lot of the fashion dresses on the high street at the moment – and I would create a mini festival-style day. I would hold it on a farm and have tipi or yurt structures joined together for the reception, chill-out area, and bar etc. There would be hay bales covered in blankets acting as seats, trestle-style tables with no seating plan struggling under the weight of wild flowers arranged in mix-match vessels. There would be vintage-style, rustic props including decorative signs, bunting, fairylights, wooden crates with the order of the day presented on and lots more atmospheric styling ideas. We'd be outdoor games for the guests (as it would be held in summer!) and because lots of my friends now have children, they would be invited along to hang out in a children's tent with a child minder to take care of them all!
A mobile pizza and prosecco van, ice cream tricycle, fish and chip pop-up hut plus a few other mobile caterers would feed everyone as and when they wished – they would just go and get their food leisurely and sit at the trestle tables. A cake/dessert table would be on offer for people to help themselves to and this would hold cakes made by friends and family.
There would be lots of chilling out, drinking (I would also have lots of beer for guests to help themselves to and a wooden, handmade gin bar) and soft music playing in the background. There wouldn't be a DJ though – just lots of fun playlists. At the end of the night, guests would be invited to bring their tents to stay over and the next morning there'd be bacon sandwiches on offer so we could all have a long, leisurely breakfast together – me and my new hubby would stay on-site but not in a tent!
Who would be your number one wedding guest and why?
I would love to have both sets of my grandparents back to watch me get married as they weren't alive when I married the first time around, and also my dear uncle Ray who has passed away since my first wedding and who I loved dearly (and still do).
What are the five words that best describe you?
I would say I am...
Kind: Towards my friends, family and boyfriend and also to strangers, I try to give way on the road as much as possible.
Creative: At home and at work. I love painting anything in my flat that I can find to give a lick of paint to, whether it is my outdoor deck, wrought iron furniture that has just been restored, vintage furniture to up-cycle (I have an old bureau crying out for some chalk paint standing in my hallway much to my neighbour's annoyance!) or any wall that hasn't yet been decorated. I also love styling pages together for the magazines at work, in particular the Colour Your Day feature that I compile – I LOVE finding items for these pages;
Fashionable: I love clothes, shoes and accessories and always have done. My fashion idol is Sarah Jessica Parker as Carrie Bradshaw in Sex and the City and I can often be seen rocking a tutu – even on a Monday, why not! I also love the style (and wardrobe) of Kylie Minogue and wish I could dance in skyscraper heels like she can.
Yoga-bunny: I practice yoga every week and have just returned from my second yoga holiday. I love anything to do with exercising, mindfulness and wellness and try, where possible, to live in the moment and not make too many plans for the future as the best laid plans are often subject to change.
Family: I am a family girl at heart. I live close by to my parents, aunt and cousins and visit them all regularly. I enjoy helping them out, spending time with them and generally being in their company. My brother and his wife live closer to London so we always have the next family day out in the diary and have fun together – we laugh a lot and I think this is really important (even if it is at each other!)
When did you last go to the cinema, and what did you see?
I love visiting the cinema because I get to escape for two hours or so and get immersed in the big screen. The last films I saw were actually on a plane La La Land but the last visit to the cinema was probably to see Girl on the Train.
I don't read books because I much prefer magazines. I love Grazia, Marie Claire and Red but will read anything – even the free supermarket ones!
What three items could you not live without?
Maybelline False Lash mascara, my rose gold iphone 7 and my cream Fiat 500 (called Dolly!) – she is new (to me) and really is my baby, I would be lost without her!
Favourite food?
I am not much of a cook (I would much rather be painting, tidying or cleaning something!) but when I get the opportunity to eat out with friends I love Mexican, tapas and Thai.
Where are you happiest?
At the moment I would say I am happiest in my flat with my boyfriend when he comes over. He is funny and kind and we hang out on my roof terrace laughing and putting the world to rights! I also love being round at my folks.
Contact me
I'd love to hear all about your plans for your big day, or whether you'd recommend your wedding suppliers. Alternatively, let me know about any budget-saving tips you feel may benefit other readers. Email me at editor@yourgloswilts.wedding.