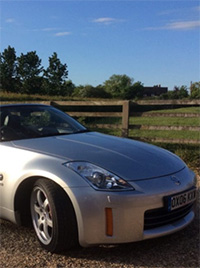 Freewheelin'
Q. We need some inspiration for fun, quirky and even colourful transport ideas to take us to our marquee wedding reception.
A. Andy Coleman says: Wedding cars are still the most popular form of big-day transport and have come a long way since the days of tying tin cans around the exhaust! They come in an array of colours and varieties to suit each couple, their personalities and their big-day theme. A Bentley in scarlet red makes a great statement and is very festive for couples getting married at Christmas. A white Mark 11 Jaguar is a cool option for a 1960s-themed reception, while older classic cars add elegance to all nuptials, especially vintage-themed ceremonies.

At Barrington Chauffeur Services, we hire an S2 Bentley and a Rolls-Royce Silver Cloud, very similar to those used at the past two Royal weddings. There's also a golden Rolls-Royce (instead of a carriage) for a Cinderella-themed day.

Grooms and their groomsmen usually love a spin in a soft-top sports car, and our Nissan 350Z doesn't disappoint – it's a real boys' toy for them to drive to the ceremony in.
Andy Coleman
www.barringtonchauffeurservices.co.uk