Ask the experts
Here is a selection of Q&As from Your Glos & Wilts Wedding magazine. If you would like your question answered by our experts, please email it to editor@yourgloswilts.wedding.
To view more Q&A's on a different topic, please select one from the list below.
Hot topic: Cakes, dresses and flowers
Our regional experts talk cakes, dresses and flowers
---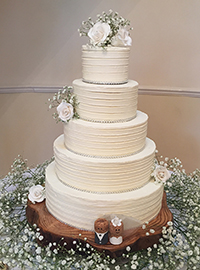 Let them eat cake
Q. We are trying to achieve a very personal wedding. How can this be incorporated into our cake?
A. Pam Johnson says: Creating a very personal day, and wedding cake, that's suited to you both is a lovely thing to do because it means that it will be an individual design. A story cake is a great way of recalling the journey of your lives together so far, with each layer focusing on different aspects – for example, where you met, your first holiday together, your engagement, moving in together and so on. I start these designs by asking for images such as photographs or clip art. I then print them on to edible icing or wafer paper and place them around the cake. I would then meet with couples to discuss the idea and decide on the placing of the images.

Another idea of personalisation is for the cake to show the wedding vows, which would be printed on to edible paper in a heart shape. This can either be encased in icing so that it's free-standing and positioned against the cake as required or it can be placed directly on to the cake with either a flower frame or icing to decorate the edges. The wedding venue and date are also a nice touch to have printed and placed on the cake, as well as your names or monograms with the similar iced surround. Using the edible printer, various messages and pictures can be picked, giving couples the chance to design their cake with an endless variety of options.
---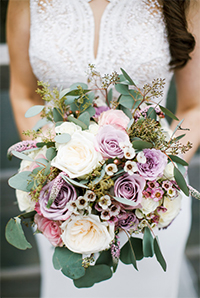 Bloomin' marvellous
Q. What flower types and colours would you suggest for a summer celebration?
A. Jo Copsey says: What better way to celebrate summertime than to have pretty seasonal flowers in a mixed palette of white, pink, lilac and blue with plenty of lush green foliage. Flower types mixed together, including roses, spray roses, delphiniums, wax flowers, sweet peas and stock, give that just-picked feeling. And if you're lucky enough to be getting married in peony season, you must consider factoring large peonies into your budget. Cheaper alternatives that are more readily available like hydrangeas or David Austin roses are another option. As long as your florist buys good-quality flowers, there's no reason why they won't last the full day and well into the next couple. Bright blooms displayed down the centre of trestle tables look great in coloured glass while pale lilac roses give a natural bouquet a subtle touch of colour. Pastel hues used in long ribbons complementing buds in the bouquet also look very pretty.
---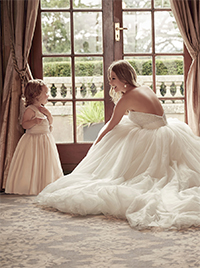 All dressed up
Q. When should I start the search for my dress, what should I wear to the appointment and how will I know what shapes will suit my figure?
A. Vicki Crocker says: We advise that you start looking for your dress at least nine months to one year before your wedding. Depending on the designer or supplier, they can take up to seven months to arrive into the studio, and you need to factor in time for any alterations.

Remember to wear white, cream or nude underwear to your appointment because you are likely to be trying on styles in those colours, so dark underwear could easily show through.

Deciding on the shape is easier than you might think because you will know what suits you when you try it on. Brides with a small bust can definitely wear a strapless gown as long as they feel comfortable in it. Choosing a strapless style with lots of detail on the bodice gives the illusion of a larger cup size, and there's always the option of having push-up pads sewn into it to add lift to the bust.

Most brides who have a fuller, curvier figure tell us when they visit the studio that they definitely do not want a figure-hugging dress. More often than not, we find that they will try on a fitted one and realise they have a beautiful shape they want to show off. Dresses designed for curvy brides are heavily boned and often have a corset back which can be tightened to enhance the bride's figure. There's no reason why a curvy bride cannot wear a strapless dress if they feel that they are supported. Many women might want to wear sleeves to conceal their arms, but more often than not, these will draw attention to them more than a strapless style or one with delicate cap sleeves.

A hoop is often used to create space under the dress and ensure the bride has space around her legs. It shouldn't (unless requested) make the dress appear too full because different circumferences are readily available.
---
Contact our experts...
Jo Copsey
Aqua Wedding Flowers & Events
---