Ask the experts
Here is a selection of Q&As from Your Glos & Wilts Wedding magazine. If you would like your question answered by our experts, please email it to editor@yourgloswilts.wedding.
To view more Q&A's on a different topic, please select one from the list below.
Hot topic: Your day, your way
Our regional experts talk organising your big day, your way
---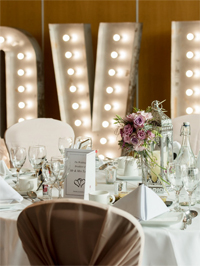 A personalised day
Q. We just attended our friend's wedding and they used the exact same blush pink colour scheme that we had planned. How can we still use this shade without looking like we've copied their idea?
A. Becky Kimber says: This is a common occurrence and the answer is simple. Start by introducing another colour palette in tones and shades that will complement the blush pink. Pick between two to four shades that go well together taking into consideration your wedding venue and make sure that nothing is going to clash with the carpets and curtains or look too small and lost in a large room.

Think about introducing textures, patterns, sequin runners and geometric shapes and don't be afraid to experiment. Create a moodboard using swatches to see what goes together and opt for what you both love and not what you think you should have or what's currently trending on Pinterest. It's your day and you need to be happy with everything, even if someone has had a similar style before.

Don't forget to add in personal elements. They will help to reflect you both as a couple and set your wedding aside from others. This could be quirky snacks, a personalised cocktail, cute favours or a retro first dance choice. It's these little touches and attention to detail that guests will remember.
---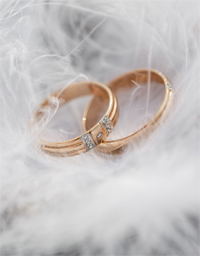 Bejewelled
Q. We're interested in buying an engagement ring bearing a semi-precious stone instead of a more conventional diamond. Can you advise us on these and do they work out to be fairly budget-friendly?
A. Jeff Lippman says: For most couples, the quintessential engagement ring is the diamond solitaire, and considering the durability and extreme sparkle of diamonds, it's certainly an excellent choice. However, it should be remembered that royalty aside, the use of diamonds in engagement rings for most is a relatively new tradition, dating back to the late 19th and early 20th century. Prior to that, coloured gemstones were the norm, and we're seeing a trend with more and more people returning to this older tradition today. Often, the engagement ring is the most important purchase that comes at a time when people are just starting out and having to work with a more modest budget. This can often lead to a significant compromise with the diamonds that the couple can afford. Coloured gemstones, on the other hand, are often less expensive compared with diamonds of the same size and weight, so they can allow the purchaser to possess a more beautiful and rare stone for the same, or even less money. This in turn offers the possibility of creating a unique, bespoke piece for the same cost as a lower quality diamond ring. Again, there's nothing wrong with sticking with diamonds but for those with other ideas, your imagination is the only limit. For example, the most recent engagement ring that I made for one of my clients was constructed of 18 carat green gold set with pink tourmaline and blue topaz. The design wasn't symmetrical as the customer requested so I say to my clients, it's not about making the most expensive ring it's about making the most beautiful piece that highlights your individuality.
---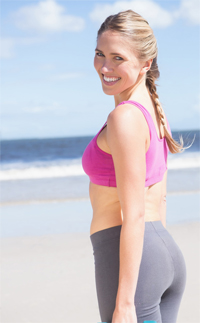 Weight watchers
Q. How can I safely and effectively achieve my ideal weight for my wedding while maintaining a healthy diet and lifestyle?
A. Zoe Griffiths says: Making healthy lifestyle changes is crucial in helping you lose weight and keeping it off. There's little value in quick fixes and faddy diets that might help you lose weight in the short term, but they can have a negative effect. To safely and effectively achieve your ideal weight, you need to make healthy changes that fit in with your lifestyle and are flexible for them to last. This will be different for everyone. Some of the popular changes that our members make that have made a real impact have been the following:

- Seeing a healthy lifestyle change for everyone in your household. A different diet and getting more active will be great for everyone no matter how old they are. Research shows that changes to your lifestyle as you're losing weight are more easily maintained if you include the whole family than if you do it alone. Hold a family meeting, discuss what will work for everyone and share some common goals.

- Being successful isn't a question of discovering a special technique or magic food. Modest alterations in everyday patterns can be the most effective way of achieving and maintaining a healthy weight. Your day-to-day routine should be your first port of call. Good habits need to be formed. They make our lives far more efficient and free up our brain to deal with more pressing matters. In other words, once we get into a habit, we follow it instinctively. If your approach to weight loss is all about what you're going to give up then it will be harder to do but if your approach is about making small changes to your current lifestyle, it will become about building on positive healthy habits and learning what works best for you.

- Plan your rewards because rewarding positive behaviour is the best way to convert it into long-term good habits. If a healthy choice is constantly reinforced by positive responses, like treating yourself to a massage or a relaxing bath after a week of making informed choices, then it's likely that you'll keep on doing it.

- For ultimate success, time spent planning is priceless. Many successful people start with the foods they can't live without and then build their healthy choices around these. Including foods you love makes sense, it means you're more likely to stick with your lifestyle changes and enjoy what you're eating along the way. A healthy pattern of eating is one that's flexible, includes what you love and has a wealth of nutritious nourishing foods (that's exactly what Weight Watchers Flex® does).
---
Contact our experts...
Becky Kimber
Planning, floristry and styling expert
---