Ask the experts
Here is a selection of Q&As from Your Glos & Wilts Wedding magazine. If you would like your question answered by our experts, please email it to editor@yourgloswilts.wedding.
To view more Q&A's on a different topic, please select one from the list below.
Hot topic: Entertainment and styling
Our regional experts talk wedding entertainment and styling
---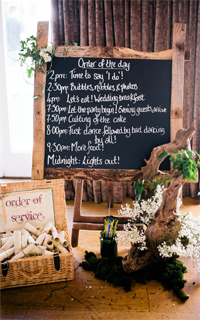 Party people
Q. We're having a vintage wedding theme and want to hire some accessories and furniture for the day – can you help with ideas?
A. Tricia Prince says: At Cotswolds Vintage Party Hire there's nothing we like better than to get creative with a vintage-themed wedding. It's a lovely way to bring together an eclectic mix of props to set the style for your special day. Vintage means quality from years past and we buy and collect large numbers of products in vintage and vintage-style (meaning newer items designed to look like older items). These include glassware, cutlery, candelabras, furniture and lots more. We hire these out for weddings and also offer a styling service to show couples how they can be used together to create the desired look.

Hiring is an excellent way to make your money go further. You don't have to buy ten of one particular item and not know what to do with it following the big day.

By developing your ideas with you, we can help you to spend your budget wisely and still create that wow factor. So, whether you're inspired by the vintage grandeur of Downton Abbey or the chintzy afternoon tea look, we can help you every step of the way.
---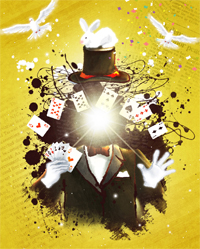 It's magic!
Q. We want an original and fun entertainment idea for our reception to surprise our guests. What can you suggest?
A. Andy Cole says: When planning a wedding, the initial thoughts are generally about the choice of venue, caterers, and outfits and couples often overlook the importance of booking quality wedding entertainment. For family and friends attending the wedding it can be a long day from the ceremony through to the evening party so it's important that they are kept engaged throughout the duration of the day. A great way to do this is to hire a professional magician. My job is simple – it's to engage and entertain all of the guests at select times throughout the day, creating moments of magic that will never be forgotten. I use my skills to bring people who maybe don't know each other together in a fun and interactive way.

Over recent years, magic has once again become cool with shows now featuring it regularly on television and celebrities such as Stephen Mulhern helping to make it trendy again. The beauty of it is that it's universal no matter what your age, religion or race – it can be enjoyed by everyone.

From the initial contact with the bride and groom, I'll work with them to ensure their day goes as smooth as possible, looking after and entertaining their guests at the right time which is generally during the drinks reception, while the photos are being taken, during the wedding breakfast circulating from table to table and during the evening reception, or a combination of them all. Whatever I do, I make sure I leave guests with a magical memory from every wedding.
---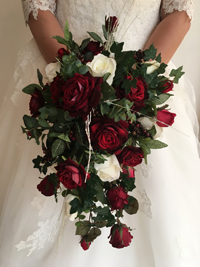 Big-day buds
Q. We're considering silk flowers for our wedding. Can they be mixed with fresh ones? I was thinking about attending a workshop to learn how to make some of the flowers myself but with limited time available, maybe I should look at hiring a florist who is also an events planner? What do you think?
A. Toni Ryder says: Silk flowers are a great choice for a wedding and are often mixed with fresh flowers, especially when you might want a particular flower that is out of season. A trend we've seen recently is to have silk flowers used with fresh greenery. Eucalyptus offers an amazing scent that when teamed with the silk flowers means that it's very difficult for couples and their guests to tell that faux flowers have been used. Many brides choose silk blooms because it means they will look as good at the end of the day as they did at the start and also because they can keep their flowers forever. It's a personal choice, but the trick is to choosing the highest quality silk flowers.

If you did want to learn to make your wedding flowers yourself, we provide a selection of workshops (minimum half a day) that you can attend on your own or with your entire bridal party. If you decided after this to go ahead and make them for the special day we would be happy to source the materials for you ensuring the quality and consistency. If you're pressed for time, hiring an events planner is a great idea if your budget allows. We offer an on-the-day styling service and also a full planning service plus tailor-made packages.
---
Contact our experts...
Andy Cole
Close up magician
---