Ask the experts
Here is a selection of Q&As from Your Glos & Wilts Wedding magazine. If you would like your question answered by our experts, please email it to editor@yourgloswilts.wedding.
To view more Q&A's on a different topic, please select one from the list below.
Hot topic: Big-day advice
Our regional experts talk wedding photography, getting crafty and W-day entertainment.
---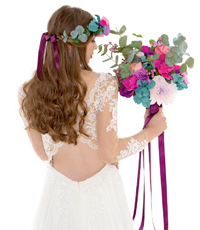 Getting crafty
Q. I love flowers but don't want to have fresh ones at my wedding because I want to be able to keep them after as a memory of the day. Plus I want something fun and creative! What can you suggest?
A. Jules Deidda says: Flowers are synonymous with weddings and we often conjure up images of flora-filled venues and lavish bouquets, but this can be costly and often only enjoyed on the actual day. Using decorative paper flowers at weddings opens up a whole new range of possibilities – not only for brides looking for something a bit different and a lovely keepsake but also for couples with allergies to fresh flowers.

Jolly Blossom's paper flowers are made to look as realistic or as creative as each individual bride wishes. You can definitely have some fun with them! Each bloom is created by hand and can range from the smallest bud to a giant flower, so you're not restricted to size, colour or seasonal availability.

Brides love the idea of keeping their wedding bouquet and it's becoming increasingly popular to do so, which paper artistry allows. With paper flowers being so versatile, using them to decorate your venue can create a fantasy feel and makes it easy to stick to your chosen theme or colour palette.

An idea is to consider using fresh foliage as garlands and then dress them with beautiful paper blooms to use as table runners, chair swags, wedding cake toppers or as a floral backdrop for your ceremony. Later in the day, they provide a great backdrop for photo opportunities! You can have endless fun dressing your venue with pops of colour using paper flowers and because they are made for each individual couple, it makes them all the more personal and special. Plus, you can even give them to guests to take home so that they, too, have a lovely memory of your day!
---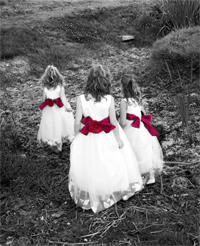 Picture perfect
Q. Please can you give us some tips on choosing our wedding photographer?
A. Chris Ogborn says: There are several elements to look for when choosing a photographer for your special day. Firstly, make sure you like their style of photography. Look at their website and gallery examples – are they a relaxed photographer? Perhaps they're more formal? Maybe they are a mix of the two? Technically, a good wedding photographer should be able to produce images to a high standard but you may prefer them traditional in style or have a more candid approach and each photographer will have their own strengths and weaknesses. Ask to see examples of complete weddings that they have taken so that you can see the quality across an entire day rather than just a collection of random pictures that may come from several different weddings.

Secondly, do you think you will get on with your photographer? Do they make you feel at ease? You're going to spend quite a bit of time with them on the day so make sure you feel comfortable with them because this will create much better images.

Finally, look for someone who offers time with you both as part of the package. A photographer who allows sufficient time means that more images will be taken resulting in a varied choice in your final selection. Having time on their side and not having to rush off to another wedding or job that day allows greater creativity for them.
---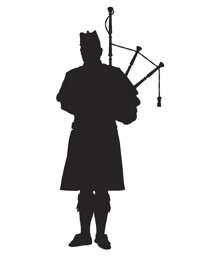 The beauty of bagpipes
Q. We want to entertain our guests with something a bit different musically. What do you suggest?
A. Billy Wardrope says: Bagpipes are a wonderful instrument that can be played at any type of wedding from those held in venues, churches, hotels and country manors to golf clubs, city halls, registry offices and even museums. You don't have to be Scottish to enjoy this distinctive sound.

Couples can choose to have the pipes played outside the venue to welcome guests, at the start of the service to introduce the bride, during the service or after it while the photographs are being taken. I'm often asked for specific tunes like Amazing Grace or Flower of Scotland but if the couple aren't sure what to pick, I'll help by showing them a few options on YouTube so that they can choose for themselves. I've been playing the bagpipes since I was nine years old so there aren't many tunes that I get asked to play that I've not heard before!

Sessions are variable and can range from half an hour to being in attendance all day (this would be with some breaks). Bagpipes can be hard to play for long periods so I tend to play a few tunes, take a break and then repeat.

I'll always make myself known to the wedding photographer on the day and will ensure that I'm standing in the right spot for the photographs.
---
Contact our experts...
Chris Ogborn
Photographer
Jules Deidda
Styling & Paper Art
---