Why you should buy issue 12 of Your Glos & Wilts Wedding magazine...
December/January 2018/2019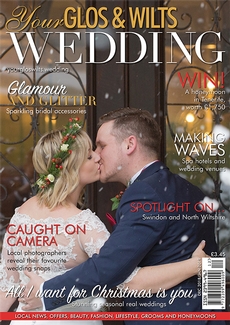 Tenerife competition
Win a three-night honeymoon at Hard Rock Hotel Tenerife, worth nearly £1,750
A winter's tale
Leonie and Richard's Christmas-themed wedding took place at the stunning Wyck Hill House Hotel & Spa in the Cotswolds
Old-school glamour
Hannah and Aaron's December wedding followed a navy and gold colour theme
Winter wonderland
Bianca and Mark's big day followed a seasonal theme with a dark green palette
Spotlight on North Wiltshire & Swindon
Where to wed in these regional hot spots
Making waves
Stylish spa hotels and wedding venues
Darling buds
Joanne Copsey at Aqua Wedding Flowers & Events teamed up with The Barn at Upcote in Cheltenham to create this stunning shoot
Caught on camera
Local photographers reveal their favourite wedding snaps
Cool caterers
Fresh ideas and inspiration for w-day food and drink
Frivolous feathers
Dress up in a fun and flirty number this season
#dresstrends
We showcase what dress trends to expect in 2019
Lady in red
Dress your bridesmaids in this season's most popular colour teamed with gold
eMagazine
Available to download NOW for only £1.49
Printed Copy
(inc. free eMagazine)
Quantity in Stock: 4
Click here to use our online ordering service
---
Buy a copy
There are 5 different ways to buy Your Glos & Wilts Wedding magazine.
Click here to view some sample pages from an eMagazine
To order the latest copy of Your Glos & Wilts Wedding magazine or to obtain back issues, click here.
Alternatively call us to order your copy, post-free for just £3.45, on 01376 514000
Read Your Glos & Wilts Wedding magazine in electronic format for just £1.49 per copy (Smartphone and Tablet compatible) click here
You can subscribe for just £17.60!
Annual subscription (6 issues)
Save over 15% off the normal cover price
FREE postage and packing
Receive each issue as soon as it is published
To order your subscription, simply call us on 01376 514000 or click here
Alternatively, click here to order an eSubscription for just £7.60
4. Buy a copy from a retail outlet
Your Glos & Wilts Wedding magazine is available from newsagents and supermarkets.
However, if you do have problems, or if your newsagents has sold out, then call us!
We'll send your copy to you post-free for just £3.45 inc P&P. Simply call us on 01376 514000
5. Overseas Orders
For non-UK customers, please email admin@county.wedding for full details.
---