Ask the experts
Here is a selection of Q&As from Your Glos & Wilts Wedding magazine. If you would like your question answered by our experts, please email it to editor@yourgloswilts.wedding.
To view more Q&A's on a different topic, please select one from the list below.
Hot topic: Wedding advice
Our regional experts talk all things wedding
---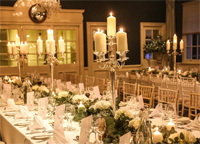 Bloomin'marvellous
Q. What flower types and arrangements would you suggest for an al fresco summer celebration?
A. Jo Copsey says: I love a good British outdoor wedding and what better way to celebrate summertime than to have pretty seasonal flowers in a mixed palette of pinks, blues, lilacs and white with plenty of green lush foliage. Flowers mixed together including roses, spray roses, veronica, delphiniums, wax flowers, sweet peas and stock give that 'just picked' feeling and, of course, if you're lucky enough to be getting married in peony season, you should also consider large peonies. If they're no longer available – they tend to be in short supply around the end of July – there are beautiful alternatives like hydrangea or David Austin roses that are larger than standard ones.

I'd advise that the containers you choose are able to hold water so that the flowers won't wilt in the sunshine. Consider using the same containers from your ceremony by moving them to your reception. If your florist is staying for the day then they'll do this for you but if not, that's what bridesmaids and ushers are for! Utilising your flowers is budget-friendly and also eco-aware.

As long as your florist buys good quality blooms, there's no reason why they won't last the full day and well into the next few. Some flowers that are grown out of season may not be as long-lasting or as good as naturally grown types, which is worth bearing in mind.
---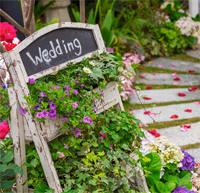 Raise a toast
Q. We're planning a traditional wedding and I'm considering using a toastmaster. Please can you explain the benefits of having one?
A. Peter Craft says: A toastmaster makes sure that everything runs smoothly and to a pre-arranged timetable – without appearing pompous or regimented! It's important to choose one with a very warm personality who combines experience with professionalism.

My experience with couples starts as soon as I'm booked because I'm always happy to offer advice, guidance and help relating to all aspects of the wedding day and I work with the venue providing a good list of recommended local suppliers if needed.

Whether you're having a civil ceremony or getting married in a church, I'm at the venue well before any guests arrive. If you' re choosing a civil ceremony, I welcome all the guests, making sure that they know where the amenities are, and about 15-minutes before the ceremony, I invite them to take their seats in the chosen room. In the meantime, I' ll have made sure that the groom meets the registrar and assist them if required. I' ll then wait for the arrival of the bride and her bridesmaids, assuring they feel as relaxed as possible before announcing she's present so that the ceremony can begin.

Following the wedding ceremony, I direct all of the guests to where the reception drinks are being served and after a short while, the photos will commence. If needed, I help the photographer gather the groups together to ensure continuity. If it's been a church celebration, I'll await the arrival of the bridal party at the venue, plus all of the guests, and usher everyone to where the reception is being held.

Later on, when everything is ready for the wedding breakfast, I invite all of the guests to make their way to their tables, then announce in the bride and groom. When the happy couple have reached the top table, I announce grace if it's required and provide any other information before the meal commences.

At the end of the meal, the toast drink is poured ready for the speeches. These follow the usual sequence starting with the father-ofthe- bride – or member of the bride's family – the groom and then the best man, all of who are announced individually. When the speeches have finished, there's generally a good break before the first dance, so I simply advise everyone what is happening, who the entertainment is and then leave them to enjoy the rest of the evening.
---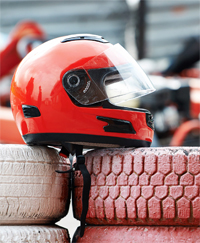 Life in the fast lane
Q. Can you suggest a fun daytime stag do for my hubby and friends to create lifelong memories?
A. Richard Gittings says: Why not consider a fun day of karting, lasertag and Segway? We run many stag parties and most choose to compete in our Super Prix event that costs just £42 per person and requires a minimum of seven drivers. The drivers are briefed on the safety and format of the event before being kitted out with race suits, helmets, gloves and balaclavas. They're then invited for a practice session to get used to the track before each driver competes in two heats of 25 laps each. The top 12 drivers will compete in a 20 lap final with trophies being awarded to the top three drivers on the podium. Computerised results are viewable throughout the event and a printout is issued at the end of it. We also have the option to add Lasertag and Segways to the itinerary for an action-packed day out and, of course, food!
---
Contact our experts...

Jo Copsey
Aqua Wedding Flowers & Events

Peter Craft
Professional toastmaster and master of ceremonies

Richard Gittings
JDR Karting
---