Ask the experts
Here is a selection of Q&As from Your Glos & Wilts Wedding magazine. If you would like your question answered by our experts, please email it to editor@yourgloswilts.wedding.
To view more Q&A's on a different topic, please select one from the list below.
Hot topic: Venue styling
Our regional experts talk venue styling
---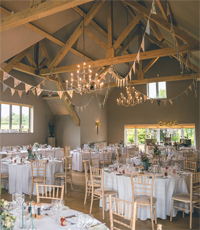 Barn dance
Q. I need some ideas and inspiration on how to decorate a barn for our upcoming late summer wedding. What do you suggest?
A. Ruth Hunter and Kim Stronach says: Being based in the Cotswolds, we're spoilt for choice for beautiful barn venues and have had the pleasure of decorating a wide range of them in many different styles. The first thing you need to consider is the theme or style of wedding you want to create – anything from country, rustic, woodland, festival or classic and elegant work well in a barn setting. For a country theme, bunting is the obvious choice. As well as being the most cost-effective way to decorate, you can easily get friends and family involved in making it too. For a bright and fun festival theme, a collection of hanging paper lanterns is the perfect choice that can be illuminated with LED lights for a transformation for the evening party. If you'd like a more elegant and classic feel then using voiles or lace drapes and fairylights strung from the beams alongside large floral chandeliers would create a soft, dreamy feel. The options are endless! As we both say, if it's pretty and you can hang it from a beam, then anything goes!
---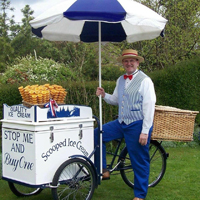 Ice ice baby
Q. We want something fun at our al fresco reception and we're considering an ice cream tricycle. Are there any cute and quirky ideas we can surprise our guests with and is it weather permitting?
A. Roger and Jan says: An ice cream tricycle can fit in with almost any theme, whether it's vintage, fairground, village fete, picnic, or a seaside one. For something fun and a bit different, a traditional uniform of straw boater, red bow tie and striped waistcoat is always a hit with guests. It's always great to see the reaction from them as they're transported back to their childhood with sprinkles and flavoured sauces. Ice cream brings out the inner child in most people! Some parents often arrange for us to attend the wedding as a surprise for the bride and groom.

Another quirky way to surprise guests is by having fun with flavor. Unusual ones such as elderflower and champagne sorbets are often a big hit at a wedding. Don't forget to cater for most dietary requirements with a choice of wafer cones, tubs, waffle cones, sprinkles and nut-free ingredients so that everyone can enjoy it.

The tricycles can be used in any season. There are no noisy generators and they're completely self-sufficient, able to serve both indoors and out. Providing there is a double door access, they can pretty much fit anywhere.
---
In full bloom
Q. Instead of traditional displays of flowers decorating our church and reception, please can you give us some unusual and quirky ways with arrangements?
A. Charlotte Gabb says: Flowers for weddings have evolved in recent times. They have moved away from stiff arrangements and become much more romantic. A church bedecked in loose, homegrown foliage and seasonal blooms gives a simple yet elegant look. Consider using the same foliage that your mother had in her bouquet for your something old and of course, very meaningful. Scented flowers are also becoming increasingly popular as they very often trigger memories and emotions. Plants are also a great way of decorating a church windowsill or entrance, and can be planted in your garden after for a wonderful memory of your special day. This also reduces the waste of cut flowers.

It's important to visit the church or venue to choose the best spots for flowers to sit because often, brides want them placed everywhere but once the guests pile in, they will be out of sight. Archways make a great feature at the entrance to a church and are a wonderful backdrop to photographs.

For a marquee, tipi or yurt wedding, beautiful flower arrangements can be as elaborate or as simple as you want. Teamed with fairy lights strung from the ceiling, why not consider one big floral chandelier or perhaps a few circles of foliage? It's often far more effective to have fewer, more eye-catching arrangements. You could have strategically placed trees in pots framing the outline of the structure. Mix and match vases, jam jars and vessels look great placed on trestle-style tables in marquees and don't forget your bouquet could be replaced with a fresh flower crown and wrist corsage for the evening celebration.
---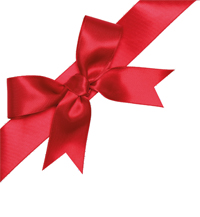 All tied up
Q. We want to style our venue with something pretty and girlie that doesn't cost a fortune and which isn't flowers, bunting or confetti. Do you have any ideas?
A. Katie Williams says: Why not consider handmade bridal bows that are eco-friendly, bio degradable, recyclable and versatile? Bows and ribbons look great decorating all elements of a wedding including chair backs, pew ends, tables, favour boxes and cars. Available in a variety of colours, they can be designed and adapted to suit any venue, large or small.
---
Contact our experts...

Charlotte Gabb
Florist

Katie Williams
Eco-friendly hand-crafted wedding bows and ribbon décor

Roger and Jan
Ice Cream Venders

Ruth Hunter and Kim Stronach
Wedding stylists
---