Ask the experts
Here is a selection of Q&As from Your Glos & Wilts Wedding magazine. If you would like your question answered by our experts, please email it to editor@yourgloswilts.wedding.
To view more Q&A's on a different topic, please select one from the list below.
Hot topic: Wedding trends
Our regional experts talk wedding trends for 2017
---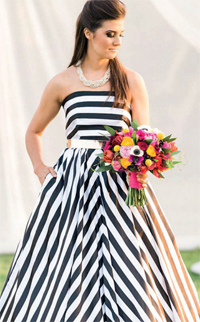 #trending
Q. What are the top wedding trends for 2017?
A. Emily Pettiford and Jessica Turley says: Bold, bright and textured is the new wedding dress trend for 2017 and we couldn't be happier. This year's brides will be looking chic in stripes and the new spring season, in particular, will see the return of the pretty statement floral print. They will also be choosing geometric graphics and daring bold colours on their wedding day.

With the Pantone colour of the year recently announced as greenery, this will be a big trend for flowers. It's the perfect excuse to go overboard with foliage and the colour green can be incorporated into pretty much every aspect of your wedding including décor, cakes and accessories.

Finally, for your reception, the future is bright, the future is neon! You might think this is a bit too much but trust us; you can never go wrong with a vivid pop of colour! Try dotting neon colours throughout a neutral scheme and you'll be delighted with the finished effect.
---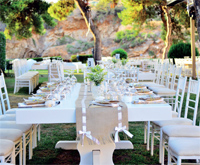 Elegant etiquette
Q. How do I lay the perfect place setting at my wedding?
A. Heather Angell says: Traditional etiquette plays a big part in how cutlery, plates and glasses are positioned on a wedding table. You can choose a formal or informal setting depending on the style of your special day.

If you're having linen on your tables, make sure it's ironed before the table is dressed. Creased linen will look messy and untidy and will detract from your beautiful place settings.

How much cutlery you place on the table is very much dependent on how many courses you're having. For a formal four-course meal, you would have the starter, fish, main and dessert cutlery displayed with the starter knife and fork on the outer edge working inwards to the dessert cutlery that will be closest to the plate.

For a less formal setting, the dessert cutlery sits at the top above the charger plate. The dessertspoon (or dessert knife) is placed at the top with the handle facing to the right and the dessert fork nearest the plate has the handle facing to the left.

Side plates are always to the left of the setting and should have a butter knife positioned on top.

Glasses for a wedding are usually for water, wine and champagne. If you're having a formal setting you may wish to include two wine glasses, one for red and one for white, and have the waiting staff clear glasses that are unused when the first drinks have been served. The glasses are placed in the top right corner of the setting with the water glass above the dinner knife.
---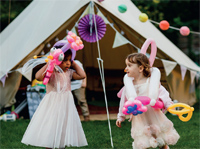 Little lovies
Q. Lots of my friends and family have children so I want a child-friendly wedding. How can I keep the little ones entertained during the day?
A. Kate Townshend says: We get asked this question a lot so have come up with six of our tried and tested top ways to make sure your ceremony is as you planned it…

1. Have a children's area or den A kid's area is a great place to give them their own space and fill it with fun and silliness, for example fancy dress costumes, blow up instruments, colouring books and games.

2. Know your audience Work out the ages and sex of children coming to your event and try to make sure you have entertainment to suit them.

3. Feed them Serving the children separately, or earlier, works well because not many of them are that excited by a two hour, three-course meal!

4. Let them be free! Children love to run around and need to blow off steam, they'll be much more likely to sit still when needed if they're a bit worn out!

5. Treat them It's a party! Set up a film with popcorn, book an ice cream van, let them loose on a sweet cart, or give them biscuits and icing pens to decorate whilst you enjoy the speeches and champagne.

6. Set expectations for parents Make sure your invites are clear about whether children are invited, and whether any childcare or entertainment will be available. It's your wedding, and if you don't want hundreds of children there, make sure parents know what to expect.
---
Contact our experts...

Emily Pettiford and Jessica Turley
Co-founders of Bespoke Bride

Heather Angell
Events Planner and founder of Your Planning Angel

Kate Townshend
Owner
---